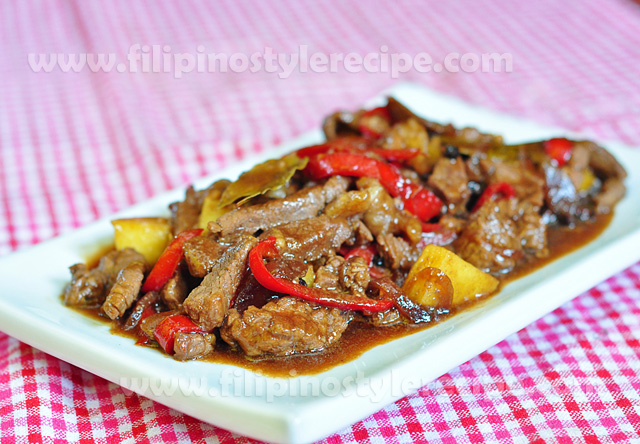 Ingredients:
1/2 kilo beef sirloin, cut into thin slices
1/4 cup soy sauce
2 pieces star anise
2 bay leaf
1/2 tablespoons peppercorns
2 tablespoons brown sugar
4 cloves garlic, minced
1 onion, chopped
1 cup pineapple juice
1 red bell pepper, cut into thin slices
1 potato, cut into cubes
1/4 teaspoon cornstarch (dissolved in 4 tablespoons water)
sugar, salt and ground pepper to taste
Procedures:
Part 1
1. In a large bowl, combine all the ingredients then mix well.
2. Marinate beef for an hour and set aside.
Part 2
1. In a pan, heat oil then fry potato until light brown. Drain and set aside.
2. In a same pan, fry bell pepper until soft. Drain and set aside.
Part 3
1. In a same pan, put marinated beef along with the marinade.
2. Bring to boil and simmer for about 40 minutes until meat is tender. Add more pineapple juice if needed.
3. Add potato and bell pepper then adjust seasoning according to taste.
4. Add dissolved cornstarch then simmer until thickens.
5. Transfer to serving plate and top with the thick sauce.
6. Serve and enjoy!
Comments
comments
Powered by Facebook Comments