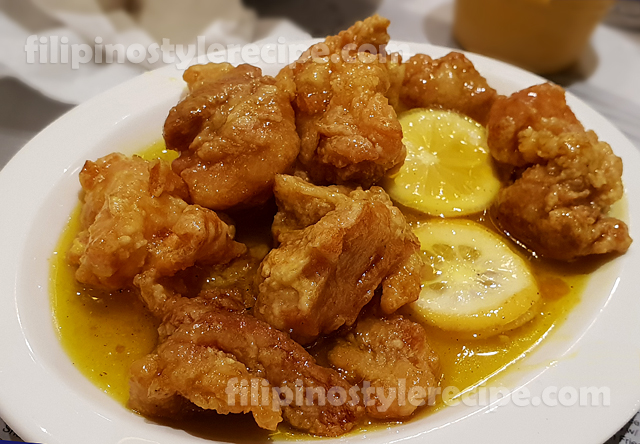 Ingredients:
4 boneless chicken breast, cut into serving pieces
Coating:
1 egg
1 tablespoon soy sauce
1/4 teaspoon white pepper
canola oil
cornstarch
Sauce:
2 tablespoons honey
3 tablespoons lemon juice
1/2 cup water
1/2 teaspoon salt
1 teaspoon sesame oil
2 teaspoons cornstarch(dissolve in 1 tablespoon cold water)
Procedures:
Part 1(Marinating)
1. In a bowl, mix the egg, soy sauce and white pepper together.
2. Add the chicken breast and soak for 30 minutes.
Part 2(Frying)
1. Remove the chicken from mixture. Coat the chicken with cornstarch.
2. In a pan, heat canola oil and fry chicken for about 3-4 minutes or until the chicken is crisp and tender. Drain on paper towels and transfer on a serving plate. Set aside.
Part 3(Sauce)
1. In a sauce pan, mix sesame oil, water, ginger, honey, lemon juice and salt together.
2. Heat over low flame, cover and bring to boil for 1-2 minutes or until fragrant and all the mixtures are dissolved and mixed well. Discard the ginger.
3. Add the cornstarch mixture into a honey-lemon sauce and bring to boil in a medium heat. Simmer for 1 minute or until the sauce thickens. Remove from heat. (If the sauce is too thick, add a small amount of water. )
4. Pour the honey-lemon sauce over chicken. Garnish with sliced lemon.
5. Serve and Enjoy!
Comments
comments
Powered by Facebook Comments