Filipino Style Recipe: This recipe is made from two of my favorite desserts, choc-nut and cheesecake. It is a fusion of an international recipe with a Filipino twist using our childhood favorite choc-nut. Talk about a delicious throwback!
Ingredients: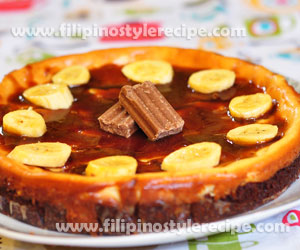 banana slices for toppings
For the crust:
24 pieces choc-nut
1/4 cup butter, softened
1/4 cup crushed grahams
For the cheesecake:
3 packs cream cheese, softened
1 cup sour cream
3/4 cup white sugar
1 tablespoons vanilla
1/4 cup milk
3 eggs
For the caramel sauce:
1/2 cup muscovado sugar
1/2 cup brown sugar
1/4 cup butter
1/4 cup milk
Procedures:
Part 1
1. In a mixing bowl, combine crust ingredients then mix until well blended.
2. Press the mixture into false-bottom pie pan. If using regular pan, put a parchment paper at the bottom so you can easily pull later on.
3. Bake in the oven at 300 degrees Fahrenheit for 10 minutes. Remove from oven and set aside.
Part 2
1. In a mixing bowl, cream together the cream cheese and sugar until smooth.
2. Mix the sour cream, vanilla and milk then gradually add the eggs. Mix until well blended.
3. Pour cream cheese mixture into prepared crust.
4. Bake in preheated oven at 300 degrees Fahrenheit for 25 minutes.
5. Once the oven stops, open the oven slightly and let the cheesecake stand for about 30 minutes.
Part 3
1. In a pot, heat the brown sugar in medium heat until it melts.
2. Lower the heat then add the muscovado sugar until it also melts.
3. Add the butter and milk, stir and remove from heat and let it cool.
4. Pour into the cheesecake then chill for at least 4 hours. Add sliced bananas for garnishing then serve.