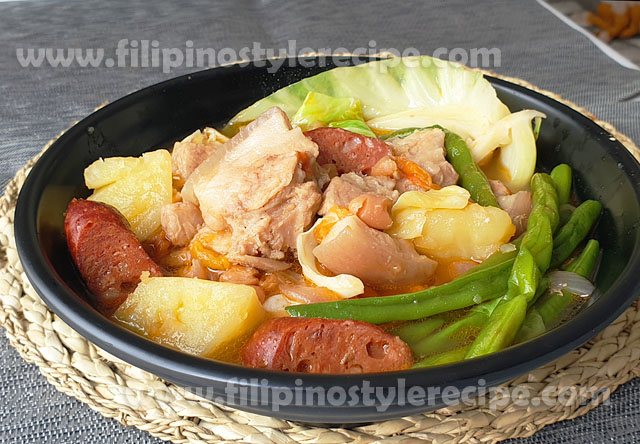 Ingredients:
1 kilo pork liempo, cut into serving pieces
1 large chorizo, sliced diagonally
1/2 head garlic, chopped
1 medium size onion, chopped
2-3 pieces tomatoes, sliced
4 pieces saba, sliced diagonally
2 potatoes, quartered
1 small bundle, green beans, trimmed
1/2 small cabbage, quartered
1/2 cup tomato sauce
3-4 cups water
1 tbsp. peppercorns
salt, fish sauce and sugar to taste
1/4 cup cooking oil
Procedures:
Part 1
1. In a sauce pan, heat oil and saute garlic, onion and tomatoes.
2. Add chorizo and pork then stir cook until color changes and start to sizzle.
3. Add tomato sauce, water and peppercorns then stir and simmer for 20-30 minutes or until pork is tender.(Add more water as necessary).
4. Add potato and simmer for another 3-5 minutes or until potato are tender.
5. Add in banana and the other vegetables, cook for 3-5 minutes or until vegetables are cooked.
6. Adjust seasoning with fish sauce, salt and sugar according to taste.
7. Remove from heat then transfer to serving plate. Serve with steamed rice.