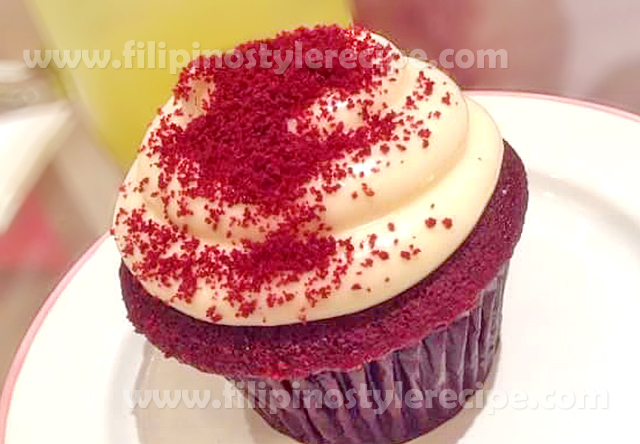 Ingredients:
1 1/4 cup flour
1/4 cup unsweetened cocoa
1/2 teaspoon baking soda
1/4 teaspoon salt
1/2 cup butter, softened
1 cup sugar
2 eggs
1/2 cup sour cream
1/4 cup milk
4 tablespoon red food color
1 teaspoon vanilla extract
red velvet crumb
Vanilla Cream Cheese Frosting:
200 grams cream cheese, softened
60 grams butter, softened
2 cups confectioners sugar, sifted
2 tablespoons sour cream
2 teaspoons vanilla extract
A dash of salt
Procedures:
Part 1
1. In a bowl, combine flour, unsweetened cocoa, baking soda and salt then mix well. Set aside.
Part 2
1. Using an electric mixer, beat butter and sugar until light and fluffy (around 5 minutes).
2. Beat in eggs one at a time then mix in the sour cream, food color, and vanilla.
3. Add flour mixture gradually until just blended. (Do not overbeat as this will make the cupcake dry and hard.)
Part 3
1. In a muffin pan, line muffin cups then fill-in batter up to 2/3 of the muffin cup.
2. Bake in preheated oven at 300 degrees Fahrenheit for 15 minutes or until done. (Cupcakes is done when a toothpick inserted in the center comes out clean.). Let it cool.
Part 4
1. In a electric mixer, whip butter on medium speed for 5 minutes or until becomes creamy.
2. Add cream cheese, sour cream, vanilla and salt then keep mixing for another 5 minutes or until becomes light and fluffy.
3. Add sugar then beat until smooth.
4. Scoop and spread the frosting on top of cupcakes. Sprinkle with red velvet crumb.
Refrigerate before serving.