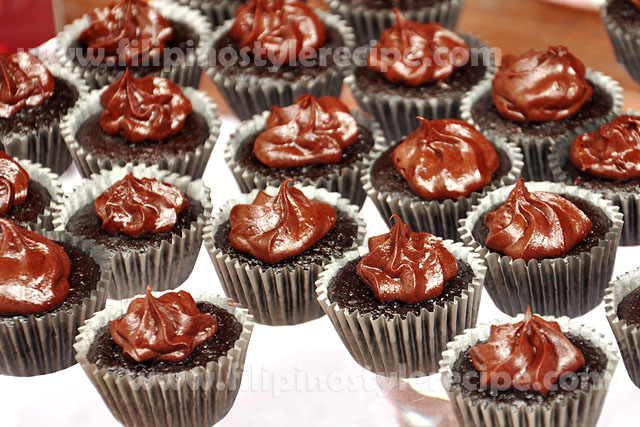 Ingredients:
Cupcake:
1 teaspoon white vinegar
3/4 cup evaporated milk
3/4 cup all purpose flour
1/2 cup unsweetened cocoa powder
3/4 teaspoon baking powder
1/2 teaspoon baking soda
1/4 teaspoon salt
2 eggs
1 teaspoon vanilla extract
1/2 cup granulated sugar
1/2 cup brown sugar
1/3 cup vegetable oil
Frosting:
1/3 cup butter
2/3 cup cocoa powder
2 cups powdered sugar
1/3 cup milk
1 teaspoon vanilla
Procedures:
Part 1
1. Dissolve vinegar in evaporated milk and set aside. In a bowl, sift together the flour, cocoa powder, baking soda, baking powder, and salt.
2. In another bowl, whisk the eggs, sugars, oil and vanilla extract until smooth.
3. Pour half of the wet ingredients into the dry ingredients, and gently mix. Pour half of the milk mixture and gently mix. Pour the remaining wet ingredients then milk mixture. Mix until just combined. Do not overmix.
4. Pour batter in prepared mini cupcake pan with cupcake liners. Fill only halfway as the batter will rise when baked.
5. Bake in preheated oven at 350 degrees Fahrenheit for 15 minutes or until a toothpick inserted in the middle comes out clean.
6. Remove from oven and let it cool for 5 minutes before removing from the pan.
Part 2
1. To make the frosting, in a small sauce pan melt butter over low heat then add sugar and cocoa powder. Stir until the mixture is smooth and thick. Remove from heat then let it cool. Add milk and vanilla then whisk until mixture becomes soft.
2. Frost top of the cupcakes. Serve and enjoy!