Filipino Style Recipe: This recipe makes a moist zucchini bread. You may also opt to add some nuts for some crunch. Enjoy it with your coffee or tea.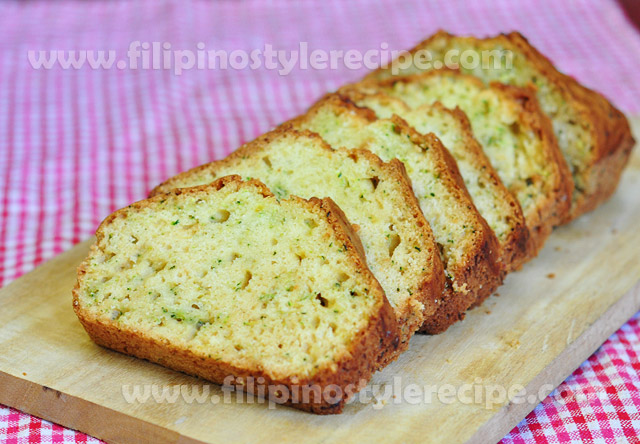 Ingredients:
3 1/2 cups all purpose flour
1 teaspoon salt
2 teaspoons baking soda
4 eggs
1 1/2 cups sugar
1 cup vegetable oil
1/2 cup plain yogurt
1 teaspoon lemon zest
1 tablespoon lemon juice
2 teaspoon vanilla extract
2 cups grated zucchini, juices squeezed out
Procedures:
1. In a bowl, sift together the flour, salt, and baking soda.
2. In another bowl, beat the eggs, sugar and vegetable oil. Stir in yogurt, lemon zest and lemon juice. Gradually pour the flour mixture until just moistened.Fold in the grated zucchini.
3. Line 2 loaf pans with parchment paper. Pour the mixture to each of the loaf pans and bake in preheated oven at 350 degrees F for 50-55 minutes or when a toothpick inserted at the center comes out clean.
4. Open the oven and let it cool for about 10 minutes. Remove from the oven and let it cool completely. Slice, serve, and enjoy.