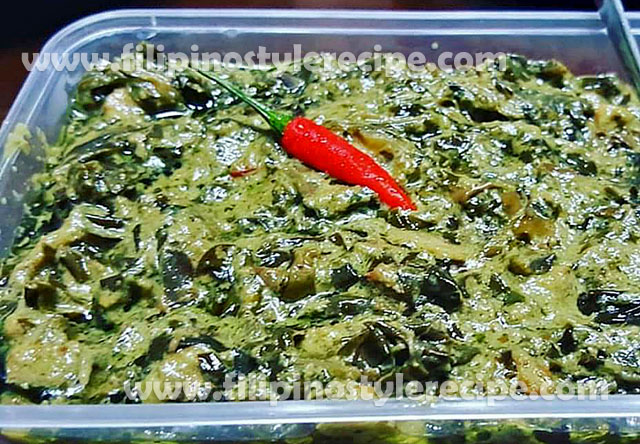 Ingredients:
25 pieces taro(gabi) leaves, dried and shredded
1/2 kilo pork belly, diced
1/4 cup shrimp paste(bagoong alamang)
1 cup 1st extract coconut cream(kakang gata)
2 cups 2nd extract coconut milk(gata)
3 pieces green chili pepper(siling haba), sliced
5 cloves garlic, minced
2 onions, chopped
2 tablespoons ginger, chopped
3 tablespoons vegetable oil
2-3 pieces red chili(labuyo)
salt and pepper to taste
Procedures:
1. In a casserole, saute garlic, ginger and onions.
2. Then add the pork, continue sauteing until color turns to light brown.
3. Add shrimp paste then stir cook for 2 minutes.
4. Pour coconut milk (2nd extract) then bring to boil.
5. Add in the taro leaves then push down until submerge then cook for 20 minutes. Do not stir.
6. Add coconut cream (1st extract) then simmer for 5 minutes.
7. Add green chili, red chili then adjust seasoning according to taste.
8. Continue to simmer for 10 minutes or until oil comes out.
9. Transfer to serving bowl then serve with steamed rice.