Filipino Style Recipe: Ginataang Laing(Taro leaves in coconut milk) is one of the local dishes in the Philippines. It is popular mostly in Bicol region, they made this dish fiery hot and absolutely delicious though it can an acquired taste to the Western palate.
The main ingredient of "laing" is dried taro leaves(dahon ng gabi) cooked with coconut milk and red chili. You can include shrimp paste with pork but some used a bits of minced daing, tinapa, shrimps or anchovy paste. If you are health and diet conscious, the plain Laing recipe alone will be the best choice for you.
Estimated time of preparation and cooking: 45 minutes.
Ingredients: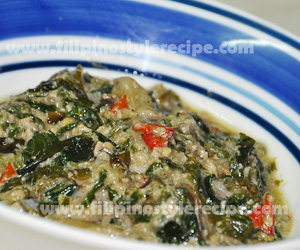 25 pieces taro(gabi) leaves, dried and shredded
1/2 kilo pork, diced
1/4 cup shrimp paste(bagoong alamang)
1 cup coconut milk(kakang gata),(1st extract)
2 cups coconut milk(gata),(2nd extract)
3 pieces green chili pepper(siling haba), sliced
5 cloves garlic, minced
2 onions, chopped
2 tablespoons ginger, chopped
2 tablespoons of oil
salt and sugar to taste
2-3 pieces red chili(labuyo)(optional)
1/4 kilo shrimp, boiled and peeled(optional)
1/2 teaspoon MSG(optional)
Procedures:
1. In a casserole, saute garlic, ginger and onions.
2. Then add the pork, continue sauteing until color turns to light brown.
3. Add in the taro leaves. Pour in the coconut milk(2nd extract) but do not stir. Bring to a boil then simmer for 15 minutes.
4. Add green chili pepper and shrimp paste.
5. Sprinkle with salt and sugar and simmer for another 5 minutes.
6. Add the remaining coconut milk(1st extract) and continue to simmer until oil comes out.
7. Remove from heat and Serve hot.
Notes:
1. Do not stir the ingredients while cooking so that itchiness of the taro will not spread on the dish, otherwise it will cause an itching sensation in your tongue when eating this cuisine.
2. You can replace the fresh coconut with coconut milk in can or coconut powder. However, you have to remember that fresh would always give the best results.
Comments
comments
Powered by Facebook Comments