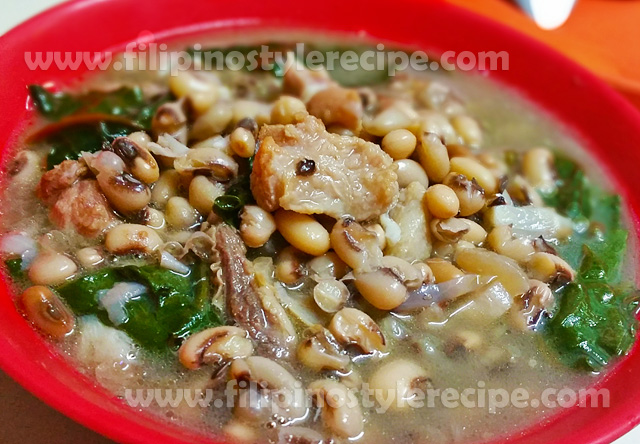 Ingredients:
1 cup black eyed beans
250 grams pork belly, sliced
5 cups water
2 cloves garlic, minced
1 onion, chopped
2 tomatoes, chopped
1 bunch ampalaya leaves or malunggay leaves
1 pork cube
salt and pepper to taste
1/2 cup pork rind(chicharon), crushed
Procedures:
Part 1
1. Soak beans in water for 1-2 hours or overnight before boiling.
2. In a pot, boil water and add beans, simmer for 30 to 45 minutes or until beans is cooked.
Part 2
1. In a saucepan, cook pork until color turns to light brown and start to render oil.
2. Add garlic, onions and tomatoes, saute until it's cooked.
3. Pour in boiled beans, broth and pork cube. Season with salt and pepper.
4. Bring to boil and simmer until slightly thick.
5. Add ampalaya leaves and pork rind. Cover and remove from heat. Serve.