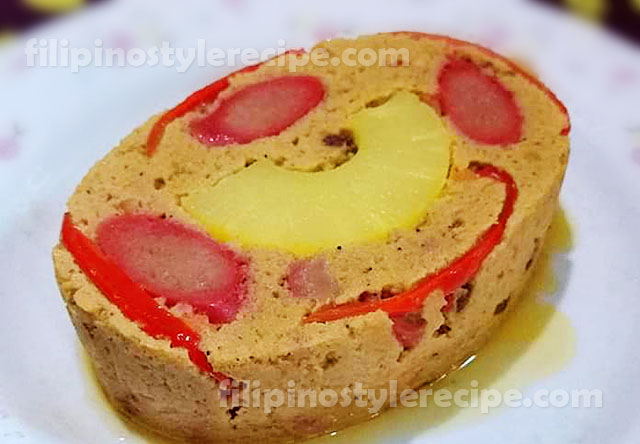 Ingredients:
1/2 kilo ground pork
1/2 cup tomato sauce
3 cloves garlic, minced
1 onion, chopped
4 hotdogs, sliced in half horizontally
1/2 cup pineapple slices, halves
1 small size red bell pepper, slice diagonally
2 tablespoons sweet pickled relish
1/4 cup raisins
2 eggs, beaten
1/2 cup pork broth
2 tablespoons cooking oil
salt and pepper to taste
Procedures:
Part 1
1. In a casserole, heat oil then saute garlic, onion and ground pork for 3-5 minutes.
2. Add pork broth and tomato sauce then stir and simmer for 20 minutes or until tender and the liquid is absorb and sizzle. Remove from heat and set aside.
Part 2
1. In a bowl, combine cooked pork and the rest of the ingredients. Mix until well combined.
Part 3
1. In a glass or grease aluminum molds, put the mixture and spread evenly.
2. Cover with aluminum foil then steam for at least 30 minutes or until firm.
3. Remove the molds then transfer to serving plate. Serve hot.