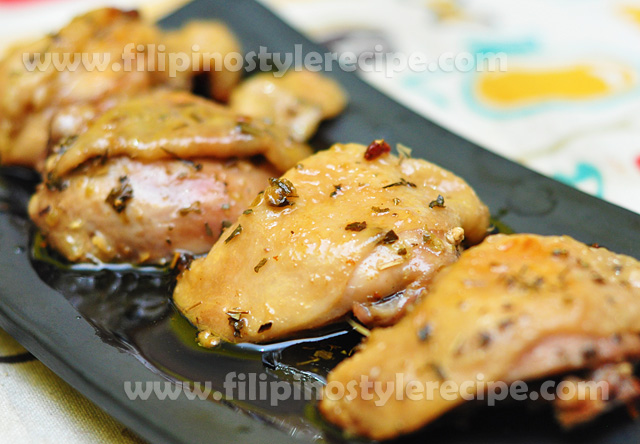 Ingredients:
750 grams boneless chicken thigh, cut into serving pieces
1 tablespoon olive oil
Marinade:
1 lemon juice, juice
1/4 teaspoon lemon zest
1/2 teaspoon garlic powder
1/2 teaspoon dried thyme
1 teaspoon dried rosemary
1/2 teaspoon dried basil
1/2 teaspoon dried oregano
salt and pepper to taste
Procedures:
Part 1
1. Marinate chicken for at least 2 hours inside the fridge.
Part 2
1. Cover baking pan with aluminum foil.
2. Arrange chicken then drizzle with olive oil.
3. Bake in a preheated oven over 200 degrees Fahrenheit for 40 minutes. Baste chicken occasionally.
4. Add more minutes to golden brown the chicken. (Optional)
5. Transfer chicken into serving plate then drizzle with remaining juice. Serve.