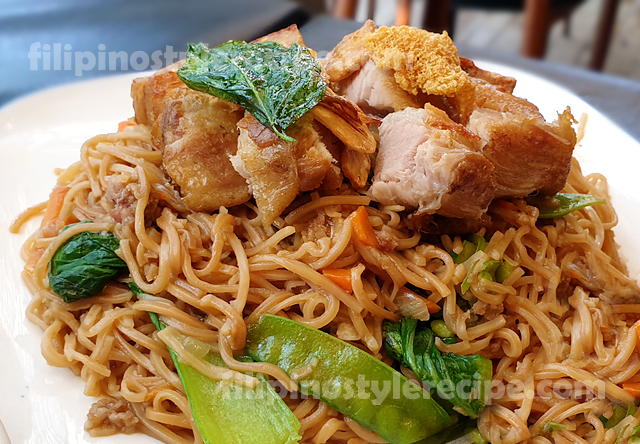 Ingredients:
1/2 kilo pancit miki (miki lucban)
1/4 kilo pre-cooked bagnet
3 cloves garlic, minced
1 onion, chopped
5 tablespoons soy sauce or fish sauce
3 cups pork broth or water
1 cup Baguio beans or snow peas
1 chayote, sliced
1 carrot, sliced
3 bundles bok choy or pechay, chopped
1/2 teaspoon ground pepper
4 tablespoons cooking oil
spicy vinegar to taste
Procedures:
Part 1
1. In a pan, fry bagnet until crispy. Put into a strainer and set aside.
2. Drain and let it cool then chopped into serving pieces. Set aside.
Part 2
1. In a pan, heat oil and stir fry all veggies for 3 minutes or until half-done. Set aside.
2. In a same pan, saute garlic and onion.
3. Add fried meat, water, soy sauce, salt and pepper. Bring to boil.
4. Add noodles then cook until it has absorbs the liquid and tender.
5. Add vegetables then cook until done.
6. Turn off the heat and transfer into serving plate. Serve with vinegar.