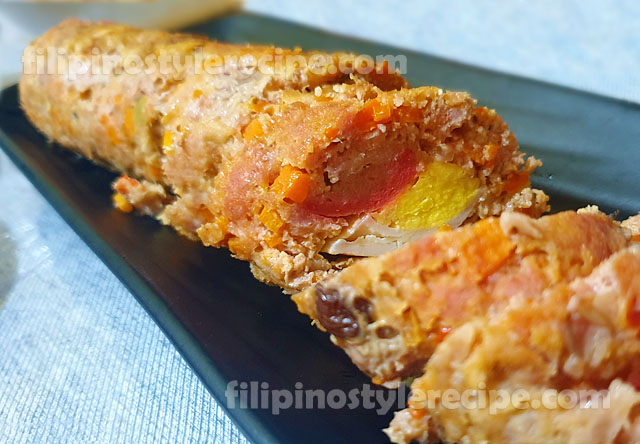 Ingredients:
1 kilo ground pork
1 cup carrot, minced
1/2 cup bell pepper, minced
1 cup onion, minced
2 cups bread crumbs
1 pack cheese, grated
2 raw eggs
4 boiled eggs, quartered
4 hotdogs, sliced in half horizontally
1/4 cup raisins
1/4 cup tomato sauce
1/4 cup sugar
1 tablespoon salt
ground pepper
aluminum foil
Procedures:
Part 1
1. Put ground pork in a large mixing bowl. add the raw eggs and bread crumbs then mix.
2. Mix in all the other ingredients except the hotdogs and boiled eggs.
Part 2
1. Put around 3/4 cup of meat mixture in an aluminum foil.
2. Flatten the mixture then arrange horizontally the hotdogs and boiled eggs in the center.
3. Roll the meat so that the hotdogs and boiled eggs are in the center (like a maki).
4. Seal the edge of the aluminum foil. Repeat for the remaining ingredients.
Part 3
1. Steam for 45 minutes. Cool and chill overnight. Slice and serve with dipping sauce.