A Philippine favorite. Sprinkle with grated cheese on top, and enjoy hot or cold.
Note:
This recipe involves baking the little cakes with the muffin tin standing in a tray of hot water – so not suitable to try with kids.
Ingredients: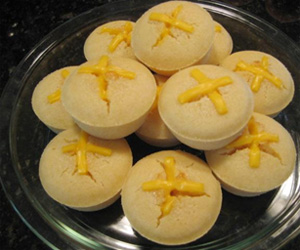 340g plain flour
250g white sugar
2 tablespoons baking powder
125ml evaporated milk
250ml water
2 eggs
250g margarine or butter, softened
Procedures:
1. Preheat oven to 190 degrees C.
2. Mix together the flour, sugar and baking powder. Pour in the water and evaporated milk and stir well. Mix in the eggs and butter or margarine.
3. Pour the mixture into muffin tins lined with baking cups. Find a baking tray that your muffin tins will comfortably fit in. Pull the oven rack out a little – approx 1/4 out of the oven – and place the baking tray (with the muffin tin inside it) on the rack. Very carefully pour about 1L of hot tap water into the baking tray. Then very slowly and carefully slide the rack completely into the oven.
4. Bake in preheated oven for about 15 minutes or until a toothpick inserted into the centre of a muffin comes out clean. Be very careful not to burn your hands with hot water or steam when you remove the muffins from the oven. Top with grated cheese.
(Thank you to Mercy Grace Nadayag for sharing)