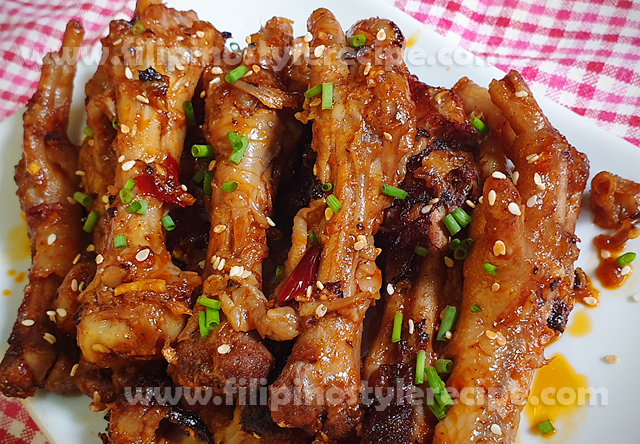 Ingredients:
1 kilo chicken feet
1/4 cup vinegar
2 pieces star anise
1 piece bay leaf
1 tablespoon salt
1/4 cup honey
Sauce:
3 cloves garlic, peeled and grated
1 thumb sized ginger, peeled and grated
2 tablespoons chili paste
1/4 teaspoon dried chili
2 tablespoons oyster sauce
2 tablespoons soda (sprite)
1 teaspoon cayenne pepper
1/4 teaspoon ground pepper
Garnishing:
toasted sesame seeds
chopped spring onions
Procedures:
Part 1
1. Cut off chicken feet claws then scrub well with vinegar and salt. Let it sit for 10 minutes.
2. Remove the liquid and rinse 3 times thoroughly and drain.
Part 2
1. In a pot, boil chicken feet with start anise, salt and bay leaf for 30-45 minutes or until very tender. Drain and set aside.
Part 3
1. In a large bowl, mix all sauce ingredients then add cooked chicken feet. Mix thoroughly until everything is coated with the sauce.
2. Cover and refrigerate for at least 2 hours or overnight.
Part 4
1. In a pan, heat oil then pour marinated chicken feet and sauce.
2. Stir-fry for 10-15 minutes, when sauce starts to thicken add-in honey. Adjust seasoning according to taste.
3. Transfer to serving plate, sprinkle with toasted sesame seeds and spring onion. Serve.