Filipino Style Recipe: pininyahang pork giniling or ground pork with pineapple is simple yet delicious dish. Ground pork sauteed and simmered in pineapple syrup together with pineapple tidbits and other vegetables. This is almost similar to ground pork menudo and ground pork adobo.
Estimated time of preparation and cooking: 50 minutes.
Good for 3-5 persons
Ingredients: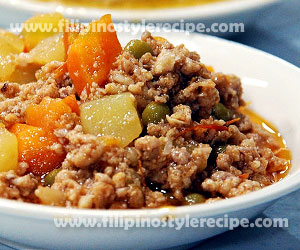 450 grams ground pork(giniling)
1 can(227 grams) pineapple tidbits, reserve syrup
3 teaspoons soy sauce
3 cloves garlic, minced
1 onion, sliced
1 potato, peeled and diced
1 carrot, peeled and diced
1/4 cup water
sugar, salt and pepper to taste
2 teaspoons raisins(optional)
2 bay leaves(optional)
1/4 cup sweet peas(optional)
Procedures:
1. In a pan, heat oil and saute garlic and onion.
2. Add ground pork and soy sauce then simmer for 5 minutes.
3. Add potatoes, carrots, raisins, sweet peas, bay leaves, water and pineapple syrup.
4. Season with sugar, salt and pepper then simmer for 8 minutes or until tender.
5. Add pineapple tidbits then cook for 3 minutes. Remove from heat and serve hot.
(Photo credit to Blogie Robillo)