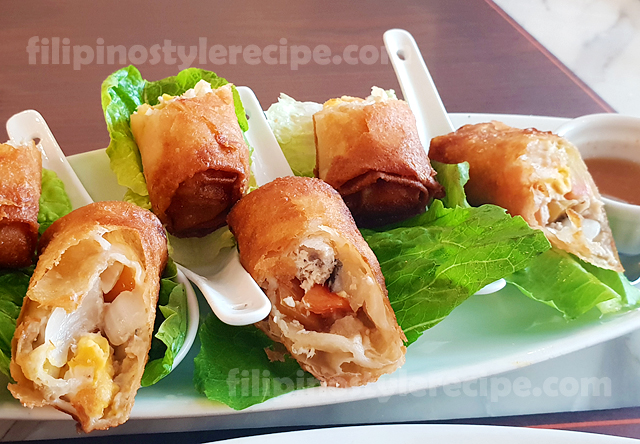 Ingredients:
12 pieces spring roll wrappers
1 raw egg, beaten
vegetable oil for frying
Filling:
1 smoked milkfish(tinapang bangus), flake and discard bones
1 small bunch parsley, finely chopped
2 salted eggs, scoop out and chopped
1 bird's eye chili(labuyo), chopped
2 tomatoes, discard the seeds and chopped
salt and pepper to taste
1 white onion, minced
Procedures:
Part 1
1. In a large bowl, combine all the filling ingredients then mix well.
2. Place 1 tablespoon of filling in a line shape at the middle of the wrapper.
3. Fold over the bottom edge of the wrapper to the center.
4. Fold the two sides towards the center and roll. Use a bit egg to seal the last edge.
5. Repeat until all wrapped up.
Part 2
1. In a frying pan, heat oil deep enough that spring rolls is half-submerged.
2. When the oil is hot enough, deep fry spring rolls for 5 minutes or until golden brown and crisp.
3. Drain on paper towel then serve with spicy vinegar.