Filipino Style Recipe: Maja Blanca(Maha Blanka) or coconut pudding recipe is a famous filipino dessert usually served as a snack. It is basically made from coconut milk, cornstarch and sugar. The basic maja blanca does not include corn and milk. In my recipe, I added corn kernel and condensed milk to make it more sweet and creamy.
Estimated time of preparation and cooking: 20 minutes
Ingredients: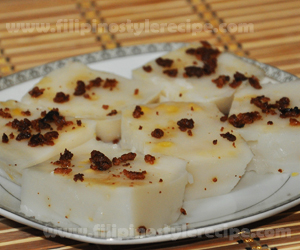 2 cans coconut milk
1 medium can condensed milk
1 medium can evaporated milk
1/2 cup white sugar
1/2 cup corn starch
1/2 can sweet corn kernel
toasted grated coconut(latik) or grated peanuts
Procedures:
Part 1
1. In a bowl, dissolved cornstarch in 1 cup fresh milk or water.
Part 2
2. Heat saucepan in a medium heat, pour coconut milk, sugar, condensed milk, evaporated milk and corn kernel.
3. Stir occasionally and bring to boil. Simmer for 5-8 minutes.
4. Add dissolved cornstarch, stir occasionally until the sauce thickens.
5. Remove from heat then transfer the mixture in a serving tray, use spatula to flatten the top.
6. Let it cool and refrigerate for at least an hour.
7. Garnish with toasted grated coconut.
8. Serve and enjoy!
Comments
comments
Powered by Facebook Comments