Filipino Style Recipe: pancit canton recipe is a noodle dish originate from Chinese that has become very popular in Filipino cuisine. Like other pancit dish, it consist of different vegetables and meat but we used flour stick noodles.
Estimated time of preparation and cooking: 40-60 minutes
Good for 4-6 persons
Ingredients: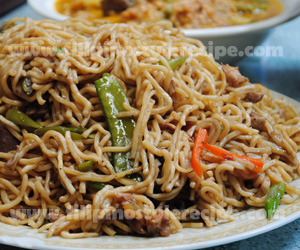 500 grams pancit canton noodles
1 chicken breast, cooked and shredded
4 cups chicken broth from chicken breast
100 grams pork, sliced in small pieces
100 grams shrimps, shelled and deveined
1/4 kilo snow peas(sitsaro)
2 cups cabbage, sliced into strips
1 carrot, julienned
1 cup celery(kintsay), sliced
4 tablespoons soy sauce
2 tablespoons oyster sauce
4 tablespoons cooking oil
1 onion, chopped
4 cloves garlic, minced
Salt and pepper to taste
100 grams chicken liver(optional)
100 grams kikiam or squid balls(optional)
100 grams mushrooms(taingang daga),(optional)
2 pieces tofu, cut into cubes(optional)
1/4 cup spring onions, diced(optional)
Procedures:
Part 1
1. In a wok or frying pan, fry tofu until color turns to light brown. Drain and set aside.
Part 2
1. In the same pan, saute the garlic and onions.
2. Add pork and liver, then cooked until color turns to brown.
3. Add soy sauce and 2 cups of chicken broth and simmer for 3 minutes.
4. Add shredded chicken breast, kikiam or squid balls, shrimps, mushrooms, tofu, snow peas, cabbage, celery, carrots and oyster sauce then simmer for 10 minutes or until cooked.
5. Add the remaining 2 cups of chicken broth and then pancit canton noodles then simmer until the liquid has been absorbed by the noodles.
6. Add the spring onions, then salt and pepper to taste.
7. Remove from heat and serve with calamansi. Enjoy!
Comments
comments
Powered by Facebook Comments