Filipino Style Recipe: Tom Yam or Thai Prawn Soup is a popular Thai soup dish. It consists of shrimps with lemon, fish sauce and some herbs and spices.
Estimated time of preparation and cooking: 30-40 minutes
Good for 6 servings
Ingredients: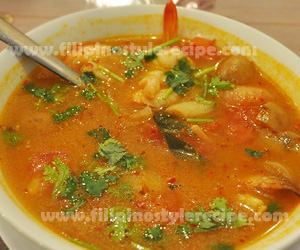 3/4 kilo medium-sized shrimps, wash peeled and deveined.(save the shells)
1/4 kilo fresh mushrooms, halved or quartered
2 stalks lemon grass(tanglad), peeled thinly
2 tablespoons cilantro leaves, chopped
1/2 cup lime juice
3 birdseye chiles(labuyo)
1 tablespoon fish sauce(preferably Thai fish sauce)
8 cups hot water
1-1/2 teaspoons salt
1 tablespoon vegetable oil
4 spring onions, chopped(optional)
4 lime leaves(optional)
2 ripe tomatoes, quartered(optional)
Procedures:
Part 1
1. In a pot, heat oil and saute shells until color turns to pink.
2. Add hot water, salt, lemon grass, lime leaves and chilies.
3. Bring to a boil, cover and simmer for 20 minutes. Strain stock.
Part 2
1. Return to a boil, add shrimps then add mushrooms after a minute.
2. Simmer for 4 minutes or until shrimps are cooked.
3. Remove from heat and add fish sauce, lemon juice, cilantro leaves, spring onions and tomatoes.
4. Serve hot and enjoy!
Comments
comments
Powered by Facebook Comments