Filipino Style Recipe: Ginisang upo recipe is another simple filipino dish. Like ginisang sayote, upo or white squash sauteed with ground pork but I used corned beef instead then add salt and pepper to taste.
Estimated time of preparation and cooking: 15-20 minutes
Good for 3-4 servings
Ingredients: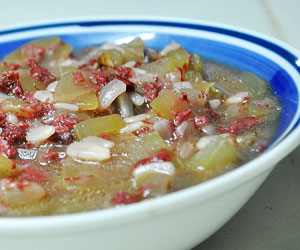 1 medium-sized White Squash(Upo), sliced
1 can(medium-sized) corned beef
5 cloves garlic, crushed
1 medium-sized onion, diced
2 tablespoon cooking oil
salt and pepper to taste
1/4 cup water
2 tablespoons fish sauce(optional)
2 medium-sized tomatoes, diced(optional)
Procedures:
1. In a pan, heat oil over medium heat then saute garlic and onions.
2. Add corned beef and water. Simmer for 1 minutes.
3. Add white squash then cover and simmer for another 5 minutes.
4. Adjust seasoning with fish sauce, salt and pepper.
5. Serve hot.
Tips:
1. You may also use 1/4 kilo ground pork as alternative.
Comments
comments
Powered by Facebook Comments