Filipino Style Recipe: Vegetable Omelet recipe is an easy healthy breakfast recipe. Instead of going with the usual eggs and cheese, add a little bit milk and extra vegetables.
Estimated time of preparation and cooking: 10-20 minutes
Good for 1 servings
Ingredients: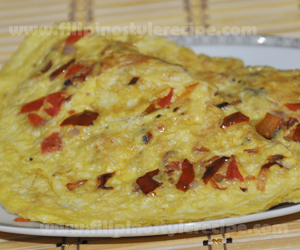 3 eggs, beaten
1 tablespoon butter or margarine
2 small button mushrooms, sliced thinly
1/4 red or green bell pepper, sliced thinly
1 onion, sliced thinly
1/2 large tomato, sliced thinly
Salt and ground pepper to taste
1/2 cup grated tasty cheese
1/4 cup milk(optional)
1 tablespoon parsley, chopped(optional for garnishing)
Procedures:
Part 1
In a bowl, beat the eggs and milk together until frothy. Season with salt and ground pepper. Set aside.
Part 2
1. In a nonstick frying pan, heat butter over medium heat.
2. Saute mushrooms for 2 minutes or until nice and browned.
3. Add onion, tomato and bell pepper, continue sauteing until softened.
Part 3
1. Pour egg mixture into vegetables, Sprinkle with grated cheese.
2. Cook until bottom is golden. Gently fold omelet over.
3. Carefully slide omelet onto a serving plate. Garnish with parsley.
4. Serve immediately!
Tips:
1. You may include 1/2 small zucchini sliced thinly in omelet filling.
Comments
comments
Powered by Facebook Comments