Filipino Style Recipe: ginataang sigarilyas or winged beans in coconut milk recipe  is another  simple yet tasty and nutritious vegetable dish, basically it's a winged beans simmered in coconut milk. Add with pork or shrimp make the recipe more delicious. This is another mouth-watering vegetable dish that is truly enjoyed by most Filipinos.
Estimated time of preparation: 10 minutes
Estimated time of cooking: 15-20 minutes
Good for 3-4 persons
Ingredients: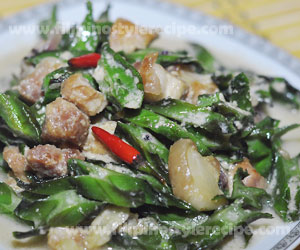 300 grams pork belly, cut into small cubes or strips
4 cloves garlic, crushed
1 medium onion, sliced thinly
1 bunch winged beans(sigarilyas), sliced diagonally and ends discarded
1/2 cup coconut cream
1/2 cup of water
salt and pepper to taste
1/4 cup dried shrimp(optional)
Procedures:
Part 1
1. In a pan, heat oil and fry pork until color turns to light brown.
2. In a same pan, saute onion and garlic. Season with fish sauce then mix well.
3. Add dried shrimp and cook for a minute.
4. Pour in coconut cream and bring to a boil.
5. Add winged beans and cook until vegetables are tender but not overcooked.
6. Add water if necessary. Adjust seasoning according to taste. Remove from heat.
7. Serve and enjoy.
Notes:
1. You may also add long beans(sitaw) and red chili if desired.
Comments
comments
Powered by Facebook Comments