Filipino Style Recipe: garlic mushroom is easy yet healthy dish. Usually button mushrooms comes stir fried with garlic then season with salt and pepper. Cooked until oil is sizzling.
Estimated time of preparation and cooking : 10 minutes
Good for 2 persons
Ingredients: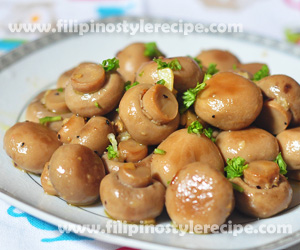 400 grams fresh button mushrooms, whole or sliced
4 gloves garlic, minced
4 tablespoons olive oil
4 tablespooons calamansi or lemon juice
salt and pepper to taste
1/2 teaspoon chili flakes(optional)
2 tablespoons parsley, chopped(optional)
Procedures:
1. In a pan, heat olive oil and saute garlic and chili.
2. Add mushrooms, salt and pepper. Stir fry for 5 minutes or until mushrooms release its own juice.
3. Add lemon juice and simmer until oil is sizzling.
4. Add parsley and stir well. Transfer to serving plate and serve.
Comments
comments
Powered by Facebook Comments