Filipino Style Recipe: Sinabawang Tahong or Mussel Soup is another seafood dish that usually served by Filipinos. This is similar to Halaan Soup. Another simple recipe but very healthy.
Estimated time of preparation: 10 minutes
Estimated time of cooking: 10-15 minutes
Good for 3-5 persons.
Ingredients: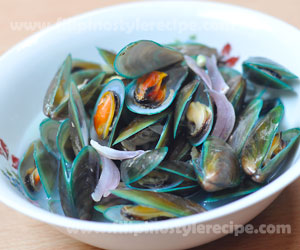 500 grams fresh mussels(tahong)
3 cloves garlic, minced
1 onion, sliced
1 thumb-sized ginger, finely sliced
3 fresh tomatoes, chopped
8 oz Sprite Cola
1 tablespoon vegetable oil
2 tablespoons fish sauce(patis)
salt and pepper to taste
1-2 bundle water spinach(kangkong)
Procedures:
Part 1
1. Wash the mussel thoroughly and drain.
2. Place the mussel in a bowl with water and salt.
3. Cover for several hours or overnight. This will allow the clams to expel sand.
Part 2
1. In a pot, heat oil and saute garlic, onion and ginger.
2. Add tomatoes and saute until soften.
3. Add mussel and stir fry for 2 minutes.
4. Add sprite soda and simmer until shells are opened. Add water if necessary.
5. Add fish sauce and adjust seasoning with salt and pepper.
6. Add water spinach and simmer for 2 minutes.
7. Remove from heat then serve.
Notes:
1. You may also used petchay(bok choy) or chili leaves
Comments
comments
Powered by Facebook Comments