Filipino Style Recipe: sauteed green beans and mushrooms is one of the easy and low carbohydrate dish. Normally the mushrooms and green beans sauteed then season with salt and pepper and cooked until tender and crisp.
Estimated time of preparation and cooking: 10-20 minutes
Good for 3-4 persons
Ingredients: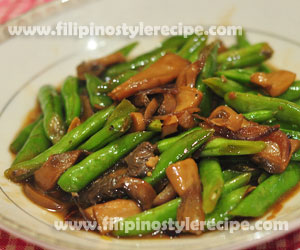 500 grams green beans, trimmed
200 grams mushrooms, sliced
1/4 cup butter
1 onions, chopped
3 gloves garlic, minced
1/4 cup water
1/2 teaspoon cornstarch(dissolved in 1/4 cup water)
salt and pepper to taste
dash of chili flakes(optional)
1/2 teaspoon sugar(optional)
Procedures:
1. In a pan, melt butter and saute garlic, onion and mushrooms.
2. Add green beans, water, chili flakes and soy sauce then simmer for 3 minutes.
3. Pour dissolved cornstarch then season with sugar, salt and pepper. Simmer for 2 minutes or until beans are tender and crisp.
4. Transfer to serving plate then serve.
Comments
comments
Powered by Facebook Comments