Filipino Style Recipe: milk tea is a sweet and creamy refreshing beverage. This milk tea combines milk, brewed tea, sugar syrup and tapioca pearls to create a sweet drink.
Estimated time of preparation and cooking: 10-12 minutes
Good for 3-5 servings
Ingredients: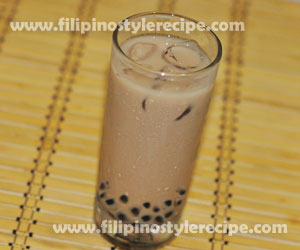 3/4 cup brewed tea(preferably black tea)
1 cup ice cubes
2 tablespoons sugar syrup(see recipe below)
1/2 cup soy milk or evaporated milk
1/4 cup black tapioca pearls(optional)
Procedures:
Part 1
1. In a blender or cocktail shaker, combine tea, milk, syrup and ice. Blend or shake until frothy.
Part 2.
1. In a glass, place tapioca pearls and milk-tea mixture. Serve cold!
Sugar Syrup:
Ingredients:
2 cup dark brown sugar
2 cups water
Procedures:
1. In a saucepan, combine ingredients then simmer over medium heat until dissolved. Stir.
2. Let it cool. Set aside.
Comments
comments
Powered by Facebook Comments