Filipino Style Recipe: banana bread is a sweet bread that is made up of flour, baking soda, eggs, butter and mashed ripe bananas as main ingredients then baked until golden brown.
Estimated time of preparation: 15-20 minutes
Estimated time of cooking: 50-70 minutes
Good for 2 loaf breads
Ingredients: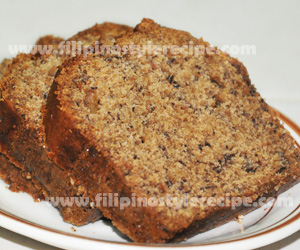 Banana Mixture
7 large ripe bananas(latundan or lakatan), mashed well
4 eggs, beaten
1 1/2 teaspoons vanilla extract
1/2 cup butter, melted
Flour Mixture
3 cups flour
2 teaspoons baking soda
2 cups sugar
1/2 teaspoon salt
1 teaspoon ground cinnamon(optional)
1/2 cup raisins, nuts or chocolate chips(optional)
Procedures:
Part 1
1. In a bowl, combine flour mixture until well blended. Set aside.
2. In a separate bowl, combine banana mixture until well blended.
3. Combine both mixtures until well blended.
Part 2
1. In a greased loaf pan, pour mixture then bake over 350 degrees Fahrenheit for about 50-70 minutes or until golden brown.(Banana bread is done when a toothpick inserted in the center comes out clean.)
2. Remove from the oven and let it cool before slicing. Enjoy!
(Thank you to Eloisa Sapallo Fiesta for sharing)
Comments
comments
Powered by Facebook Comments