Filipino Style Recipe: No-Bake Cheesecake is an easy sweetened dessert recipe. It made of soft cream-cheese on hard biscuit crust. Usually topped with flavored toppings such as fruits, nuts or chocolates.
Estimated time of preparation: 15-20 minutes(plus chilling time)
Ingredients: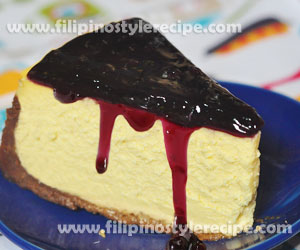 Crust:
1 1/2 cups crushed graham cracker
1 tablespoon sugar
1/2 cup butter, melted
1/2 teaspoon cinnamon powder(optional)
1 teaspoon lemon juice(optional)
Cheesecake Filling:
1 cup cream cheese
1 cup whipping cream or all-purpose cream
1/2 cup sugar
1 teaspoon vanilla extract
Toppings:
1 can Blueberry pie filling(optional)
Procedures:
Part 1
1. In a mixing bowl, combine crushed graham, cinnamon powder, lemon juice, sugar and butter then mix until well combined.
2. Mixture should be moist, add more butter if too dry.
3. In a 9-inch pan, spread and press down the crust mixture up to 1-inch bottom thick and 2-inch up the side.
4. Refrigerate for at least 10 minutes.
Part 2
1. In a bowl, mix cream cheese until smooth then slowly add sugar and vanilla. Mix until well blended.
2. In a separate bowl, combine whipping cream and sugar until smooth. Mix until well blended.
3. Combine cream cheese mixture and whipping cream mixture. Mix well.
Part 3
1. Pour and spread evenly the filling into the crust. Smooth the top using rubber spatula and tap the pan to release some air bubbles.
2. Cover and refrigerate for at least 3 hours or until firm.
3. Top with blueberry pie filling or just plain. Serve Chilled.
Notes:
1. You may also use other pie fillings like cherry or strawberry.
Comments
comments
Powered by Facebook Comments