Filipino Style Recipe: tuna penne with broccoli is another easy yet delicious pasta dish. It is usually consist of pasta and a creamy white sauce with tuna and broccoli.
Estimated time of preparation and cooking: 15-30 minutes.
Good for 4-6 person
Ingredients: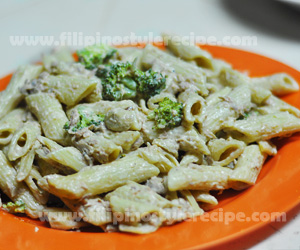 500 grams Penne pasta
1 big can spicy tuna flakes in oil, drained
3 cups broccoli florets, cut into small pieces
1 big can evaporated milk
1 red bell pepper, thinly sliced
1 green bell pepper, thinly sliced
3 gloves garlic, minced
1 onion, chopped
1/2 cup chicken stock or water
2 cups Parmesan cheese, grated
2 tablespoons olive oil or butter
salt and pepper to taste
1 teaspoon dried basil leaves(optional)
1/2 cup sliced black olives(optional)
Procedures:
Part 1
1. In a large pot, prepare the pasta based on cooking instructions. Set aside.
2. Add broccoli then cook in a boiling water for 1 minutes or until tender. Drain and rinse with cold water.
Part 2
1. In a pan, heat oil and saute garlic and onion.
2. Add tuna, bell pepper and black olives.
3. Pour chicken stock and bring to boil.
4. Add evaporated milk, cheese and basil.
5. Season with salt and pepper. Mix well.
6. Prepare pasta on pasta tray, pour the sauce, broccoli, grated cheese and dried basil. Toss together then Serve!
(Thanks to Ms. Marevic for sharing)
Comments
comments
Powered by Facebook Comments