Filipino Style Recipe: bread roll is another simple and easy Filipino meryenda(mid-afternoon snack). Bread roll is made of loaf bread slices stuffed with ham, cheese and bell pepper. Dip in beaten egg and roll over bread crumbs then fry until brown.
Estimated time of preparation: 15 minutes
Estimated time of cooking: 15 minutes
Ingredients: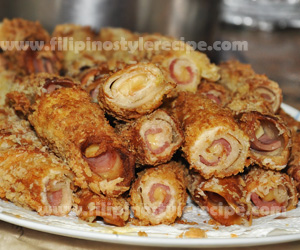 12 slices of loaf bread
2 eggs, beaten
3 cups bread crumbs
cooking oil for frying
Filling:
12 strips of cooked ham
12 strips of cheddar cheese
12 strips of bell peppers(optional)
Procedures:
Part 1
1. Cut off the outer layer of the bread then flatten using a rolling pin.
2. Arrange the filling over the bread then roll.
3. Dip the roll in beaten egg then roll in bread crumbs. Set aside.
4. Repeat the procedures for remaining slices.
Part 2
1. In a frying pan, heat oil then fry each roll for 1-2 minutes or until browned.
2. Drain on paper towels then cut into half and arrange in a serving plate. Serve.
Comments
comments
Powered by Facebook Comments