Filipino Style Recipe: Hot and Spicy Chicken Wings is another easy and mouth-watering chicken dish. This is usually made of chicken wings marinated then fry until golden brown. The fried chicken wings coated in a blend of spicy sauce and seasonings then usually served as appetizer or pulutan.
Estimated time of preparation: 15 minutes(plus marinating time)
Estimated time of cooking: 30-40 minutes
Good for 3-5 persons
Ingredients: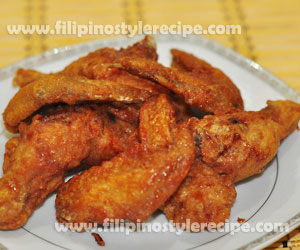 500 grams chicken wings, tips removed
1 tablespoon salt
1 tablespoon ground pepper
1 tablespoon cayenne pepper
1 cup flour
1/2 cup butter or margarine
1/2 cup ketchup
1/4 cup red hot chili sauce
1 teaspoon chili flakes
1/4 cup brown sugar
cooking oil for deep frying
Procedures:
1. In a bowl, combine chicken wings, cayenne pepper, salt and pepper. Marinate for 30 minutes.
2. In a frying pan, heat oil then dredge the chicken wings in flour then deep fry until golden brown. Drain and set aside.
3. In a pan, melt butter then add ketchup, hot sauce, chili flakes and brown sugar. Stir well.
4. Add chicken wings then toss until well coated. Transfer to a platter then serve.
Comments
comments
Powered by Facebook Comments