Filipino Style Recipe: Puto pao is another Filipino delicacy that usually served during meryenda(mid-afternoon snack). Puto Pao is similar to plain puto stuffed with filling same as siopao. There are several versions of puto pao, in this recipe we will make asado for the filling.
Estimated time of preparation: 20 minutes
Estimated time of cooking: 30-40 minutes
Ingredients: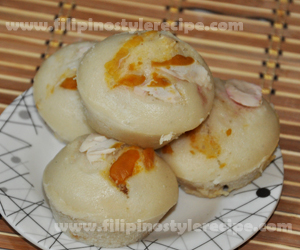 Batter:
500 grams all purpose flour
250 grams white sugar
1/4 cup baking powder
2-1/2 cups water
1 cup powdered milk
3 pieces whole eggs
3 tablespoons butter
Filling:
500 grams ground pork or beef
1/2 cup soy sauce
1 piece laurel leaf
1 piece star anise
1/2 cup water
1/2 cup white sugar
1 teaspoon cornstarch
2 cloves garlic, minced
2 tablespoons cooking oil
Toppings:
1/2 cheddar cheese, sliced
4 salted eggs, sliced
Procedures:
Part 1
1. In a bowl, mix together the flour, sugar, baking powder then pour water, powdered milk and stir well.
2. Add eggs and butter then mix until well blended. Set aside.
Part 2
1. In a pan, heat oil and saute garlic then add ground meat and stir cook for 3 minutes.
2. Add the rest of the filling ingredients and cook until tender and the sauce thickened.
3. Discard anise and laurel. Set aside.
Part 3
1. In a muffin cups, pour a little amount of batter then add a tablespoon of filling.
2. Cover the filling with another amount of batter until cup is half full.
3. Top with salted egg and cheese then steam for 10-15 minutes or until done.(puto pao is done when a toothpick inserted in the center comes out clean.)
Comments
comments
Powered by Facebook Comments