Filipino Style Recipe: potato salad is comprises a potato as main ingredient. Combine with mayonnaise, mustard, hard-boiled eggs, lemon juice, chives, salt and pepper for salad dressing.
Estimated time of preparation: 20-30 minutes. Good for 3-4 persons
Ingredients: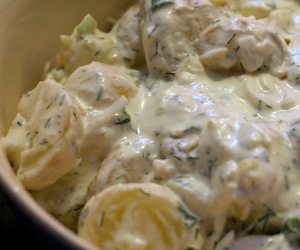 1 kilo potatoes, cleaned
1 cup mayonnaise
1 tablespoon mustard
1/2 cup spring onion or chives, chopped
1 tablespoon lemon or calamansi juice
1 teaspoon sugar
1/2 teaspoon salt
1/2 teaspoon ground black pepper
3 hard-boiled eggs, peeled and chopped(optional)
1 cup cheddar cheese, grated (optional)
1 teaspoon dried thyme(optional)
1/2 cup celery, chopped(optional)
1/4 cup parsley, chopped(optional)
1/2 cup chicken breast flakes or smokey bacon tidbits(optional)
Procedures:
Part 1
1. In a large pot, boil water with salt then cooked potatoes for 15-20 minutes or until tender.
2. Let it cool then peel and chop the potatoes into cubes.
3. Place in a large bowl and set aside.
Part 2
1. In a bowl, combine the remaining ingredients and stir until well blended.
2. Pour over potatoes then toss gently to coat. Cover and refrigerate for 3 hours before serving.
Comments
comments
Powered by Facebook Comments