Filipino Style Recipe: Pork Adobo with Pineapple is another variety of Filipino pork adobo, we just add pineapple chunks or tidbits which gives a sweeter and flavorful taste to our dish.
Estimated time of preparation: 10 minutes(plus marinating time)
Estimated time of cooking: 40-50 minutes
Good for 4-5 persons
Ingredients: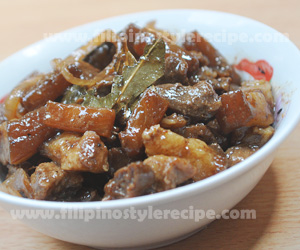 1/2 kilo pork, cut in serving pieces
1 cup pineapple chunks or tidbits
1/4 cup soy sauce
1/4 cup vinegar
1/2 cup pineapple juice
6 gloves garlic, crushed
1 white onion, sliced in rings
1 teaspoon peppercorns
2-3 pieces bay leaves
1 teaspoon sugar
salt to taste
Procedures:
Part 1
1. In a pot, combine pork, garlic, bay leaves, peppercorns, soy sauce and pineapple juice. Marinate for 30 minutes.
Part 2
1. Simmer in a low heat for 40 minutes or until pork is tender. Add water if necessary.
2. Pour vinegar and simmer for another 10 minutes then season with salt and sugar according to taste.
3. Add onions, pineapple then simmer for 2 minutes or until the sauce thickened.
3. Remove from heat then transfer to serving bowl then serve with steamed rice.
Comments
comments
Powered by Facebook Comments