Filipino Style Recipe: Adobong Hito or catfish is another variety of popular Filipino adobo. The procedure is almost the same, normally the fish cooked in a blend of soy sauce, vinegar, garlic, peppercorn, salt and soda to add sweetness to our dish. Covered and simmered until the fish is tender and a little sauce is left. This delicious dish commonly served main dish or sometimes as pulutan.
Estimated time of preparation: 15 minutes
Estimated time of cooking: 25 minutes
Good for 3-4 persons
Ingredients: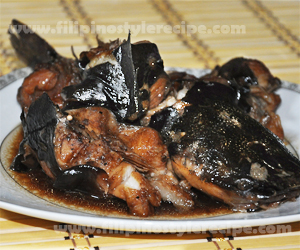 2 pieces medium-sized catfish (hito), cleaned
1 1/2 cup soda or lemonade
1/4 cup soy sauce
1/3 cup vinegar
1/2 head garlic, peeled and crushed
1 large onion, peeled and sliced
1 thumb-sized ginger, chopped and crushed
1 tablespoon peppercorns
salt to taste
4 pieces red chili peppers(labuyo), chopped(optional)
Procedures:
Part 1
1. Clean the fish by removing the fins, innards and chop off the tails.
2. Slice into serving pieces then rub with salt and wash on running water.
Part 2
1. In a cooking pot, arrange the fish and all the ingredients.
2. Cover and simmer in a medium heat until tender and a little sauce is left.
3. Adjust seasoning according to taste, add water if necessary then simmer for a few minutes.
4. Remove from heat then transfer on a serving plate. Serve with steamed rice.
Comments
comments
Powered by Facebook Comments