Filipino Style Recipe: chicken, ham and cheese roll is another special meat roll dish that usually served during Holidays or any special occasion. Normally the meat rolls stuffed with ham and cheese then wrap in spring roll wrapper. Coated in breadcrumbs then deep fried until golden brown.
Estimated time of preparation: 20 minutes
Estimated time of cooking: 10-20 minutes
Ingredients: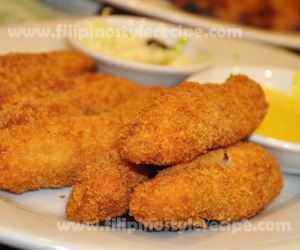 10 pieces chicken fillet
10 slices cheddar cheese(optional)
10 slices sweet ham, sliced halves
2 eggs, beaten
1/2 cup all-purpose flour
10 pieces spring roll wrappers(lumpia wrapper)
salt and pepper to taste
1 cup evaporated milk(optional)
1 cup bread crumbs(optional)
canola oil for frying
Procedures:
Part 1
1. In a bowl, combine beaten eggs and milk. Mix well.
Part 2
1. Pound the meat using meat pounder, season with salt and pepper.
2. Arrange ham and cheese strips over the meat and roll the meat.
3. Dip meat in egg mixture then dredge in flour and then dip again in egg mixture.
4. Brush the spring roll wrapper with egg mixture then place chicken roll on top.
5. Wrap and roll the wrapper then seal the edges with a bit of water.
6. Dip again each roll in egg mixture then roll in bread crumbs. Set aside.
7. Repeat the procedures for remaining pieces.
Part 3
1. In a pan, heat oil then fry each roll for 3 minutes or until golden brown.
2. Drain on paper towel then serve with dip.
Comments
comments
Powered by Facebook Comments