Filipino Style Recipe: sinigang na ulo ng maya-maya or snappers head tamarind soup is another simple and easy Filipino dish. This is similar to other sinigang that has a sour broth. Normally the head cooked in a combination of rice washing, onions, tomatoes, vegetables and tamarind which gives a sour taste.
Estimated time of preparation and cooking: 15-20 minutes
Good for 2-3 persons
Ingredients: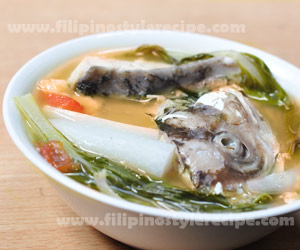 2 pieces snappers head(ulo ng maya-maya)
1 pack sinigang sa sampaloc mix
6 cups water or rice washing
4 cloves garlic, minced
1 onion, sliced
1 thumb-sized ginger, sliced thinly
3 tomatoes, diced
a bunch petchay or kangkong
1 radish, sliced(optional)
3 tablespoons olive oil
salt or fish sauce to taste
1 teaspoon ground pepper
Procedures:
1. In a pot, heat olive oil and saute garlic, onion, ginger and tomatoes.
2. Add maya-maya, radish and pour water. Cover and simmer for about 10 minutes.
3. Add tamarind juice or sampaloc mix. Simmer for 5 minutes.
4. Season with salt or fish sauce according to taste.
3. Add petchay and simmer for another 1 minute.
4. Transfer to serving bowl and serve hot.
Comments
comments
Powered by Facebook Comments