Filipino Style Recipe: grilled pork liver or inihaw na atay ng baboy is another simple yet popular finger-food(pulutan). This is usually made of marinated pork liver(atay) then grill for a few minutes. Serve with soy sauce, calamansi juice and red chili. Pork liver is a good source of protein and iron to helps the body generates healthy red blood cells.
Estimated time of preparation: 5 minutes(plus marinating time)
Estimated time of cooking: 5-10 minutes
Ingredients: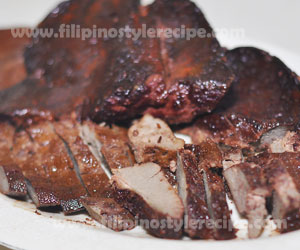 500 grams pork liver(atay), 1 inch thick
1 tablespoon ketchup
1 teaspoon cooking oil
Marinade:
1/4 cup soy sauce
3 cloves garlic, crushed
1/8 cup calamansi or lime juice
1/4 teaspoon grind black pepper
dash of salt
1 tablespoon brown sugar
Procedures:
Part 1
1. In a bowl, combine marinade ingredients then marinate pork liver for at least 3 hour or in a fridge overnight.
Part 2
1. Remove the pork liver and then reserve the marinade.
2. Combine ketchup and oil in marinade then mix well for basting.
3. Grill marinated pork liver over hot charcoal for 2 minutes each side or until tender while basting with marinade mixture.
4. Slice into serving pieces then serve with spicy tuyo-mansi.
Comments
comments
Powered by Facebook Comments