Filipino Style Recipe: Halo-halo is a famous Filipino dessert consists of shaved ice, milk and various sweet ingredients then mixed together. Top with ice cream, ube halaya or leche flan makes the halo-halo's special and delicious. This dessert is easy and simple to prepared and usually served during meryenda(mid-afternoon snack) that is commonly sold along the streets and usually served during summer season. The famous Halo-halo that I've tried so far are from Razons and Chowking, the kids really love this dessert.
Estimated time of preparation: 5-8 minutes
Ingredients: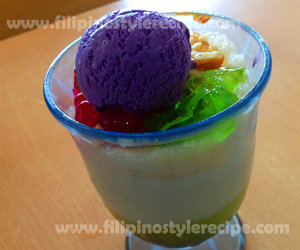 shaved ice
evaporated milk
white sugar
leche flan(optional)
ice cream, any flavor(optional)
rice crispy(optional)
Choose at least 5 sweets you want:
*coconut sport(macapuno)
*colored gelatin(red/green)
*coconut gel(nata de coco)
*sugar palm(kaong)
*sweetened red beans
*ripe jackfruit(langka)
*tapioca pearls(sago)
*sweetened bananas(minatamis na saging)
*ube halaya or leche flan
Procedures:
1. In a bowl or tall glass, combine 1 tablespoon of each sweets and sugar.
2. Add shaved ice then pour evaporated milk top with leche flan, ice cream and rice crispy. Serve immediately.
Comments
comments
Powered by Facebook Comments