Filipino Style Recipe: cookies and cream smoothie is another sweet, creamy and refreshing beverage. This is made up of crumbled chocolate cookies, vanilla ice cream, low-fat milk and chocolate syrup. Best to served during summer season.
Estimated time of preparation: 5-8 minutes
Ingredients: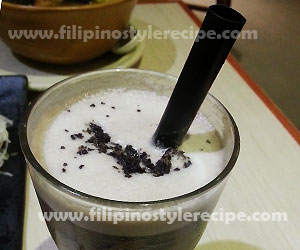 10 Oreo cookies or any chocolate cookies, crumbled
2 cups vanilla ice cream, softened
1/4 cup low-fat milk
3 tablespoons chocolate syrup
Procedures:
1. In a blender, combine milk, ice cream and chocolate syrup.
2. Add 1/2 of crumbled cookies then process until blended.
3. Pour into glasses then sprinkle with remaining cookies then serve immediately.
Comments
comments
Powered by Facebook Comments