Filipino Style Recipe: sauteed tinapa with tomatoes is an easy and simple dish made up of smoked fish(tinapa) cut into flakes then sauteed in garlic and tomatoes. I used left-over tinapa in this recipe, this is usually served during breakfast with garlic rice.
Estimated time of preparation: 8-10 minutes
Estimated time of cooking: 8-10 minutes
Ingredients: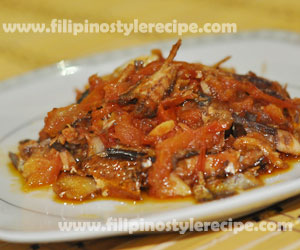 4-6 pieces tinapa(smoked fish), flakes and discard bones
3 tomatoes, chopped
2-3 gloves garlic, minced
salt and pepper to taste
1/4 teaspoon chili flakes(optional)
spring onion, chopped(optional)
Procedures:
1. In a pan, heat oil then saute garlic.
2. Add tomatoes and cook for 5 minutes or until soft.
3. Add tinapa flakes and chili flakes then stir cook for 3 minutes.
4. Adjust seasoning according to taste then sprinkle with spring onion.
5. Transfer to serving plate then serve with garlic rice.
(thanks Ms. Rochelle for sharing)
Comments
comments
Powered by Facebook Comments