Filipino Style Recipe: sizzling porkchop in mushroom gravy is a delicious sizzling dish made of broiled pork chops and mushroom gravy. This is commonly served in hot sizzling plate together with mixed vegetables and steamed rice. I got this idea from one of the resto bar somewhere in Makati City. They served this kind of dish as main course or finger-food(pulutan) together with cold beer.
Ingredients: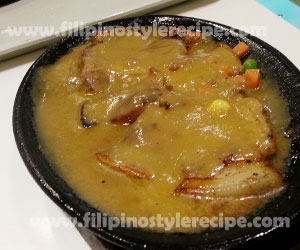 4-6 pieces pork chops
1 cup soy sauce
6 pieces calamansi
1/4 cup butter
salt and pepper to taste
Mushroom Gravy:
1/2 onion, diced
2 cups button mushrooms, sliced
3 tablespoons soy sauce or oyster sauce
2 tablespoons flour
3 cups beef stock
2 tablespoons butter
Procedures:
Part 1
1. Marinate pork chops in soy sauce, calamansi juice, salt and pepper for an hour.
2. In a pan, melt butter then broil pork chops for 5 minutes each side or until tender. Set aside.
Part 2
1. In a pan, melt butter then saute onions over medium heat.
2. Add mushrooms then stir cook for 3 minutes.
3. Add soy sauce and flour, stir constantly for a minute.
4. Add beef stock and simmer for 3 minutes or until the sauce becomes thick.
5. Add butter and cook for another minute. This will make the sauce shiny and more flavorful.
Part 3
1. Transfer the pork chops in hot sizzling plate then pour mushroom gravy sauce on top.
2. Serve immediately with mixed veggies and steamed rice.
Comments
comments
Powered by Facebook Comments