Filipino Style Recipe: longganisa rice omelet or omelette is another easy yet delicious breakfast recipe. This is another variety of omelet dish that consists of beaten eggs, and leftover longganisa(Filipino sausage) mixed and cooked with carrots and rice. This is a complete meal that usually serve during breakfast.
Estimated time of preparation and cooking: 10-15 minutes
Good for 2 servings
Ingredients: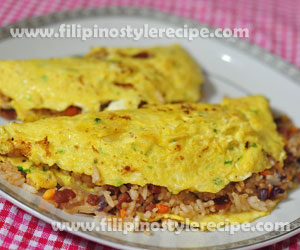 4 eggs, beaten
2-3 pieces longganisa(fried/leftover)
2 cups rice(leftover)
1 small carrot
1 onion, chopped
2 tablespoons butter or margarine
2-3 tablespoons soy sauce or liquid seasoning
1 tablespoon cooking oil
salt and pepper to taste
1 tablespoon chopped spring onions(optional)
Procedures:
Part 1
1. In a separate bowl, beat the eggs and spring onions together until frothy. Set aside.
2. Chop carrots and longganisa into small pieces. Set aside.
Part 2
1. In a pan, heat oil then saute onions until soft.
2. Add carrots and longganisa then stir cook for 3 minutes.
3. Add rice, soy sauce, salt and pepper then continue stirring for another 2 minutes.
4. Remove from the pan and set aside.
Part 3
1. In a same pan, melt butter in a low heat then pour egg mixture.
2. Cook until slightly set then top rice mixture.
3. Continue cooking until bottom is fully set then gently fold omelet over.
4. Drain and paper towel then transfer into serving plate then serve.
Comments
comments
Powered by Facebook Comments