Filipino Style Recipe: Longsilog is another popular breakfast dish by most Filipinos which is a combination of Long=Longanisa(sausage), Si=sinangag(fried rice) and log = itlog(fried egg). Longanisa is a flavoured sausage that is commonly made of ground pork meat and spices.
Estimated time of preparation: 8 minutes
Estimated time of cooking: 20-25 minutes
Good for 2 servings
Ingredients: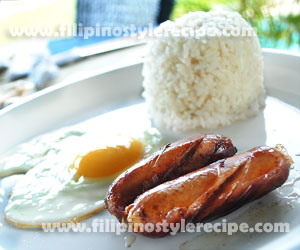 4 pieces longanisa(sausage)
2 cups leftover rice
2 raw eggs
4 gloves garlic, minced
salt to taste
Procedures:
Part 1
1. In a pan, heat oil then fry sunny-side up egg until set. Drain and set aside.
2. In a same pan, fry garlic until light brown.
3. Add rice then season with salt. Keep stirring for 3 minutes or until well blended. Set aside.
Part 2
1. In a pan, heat oil then cook longanisa until brown. Drain and set aside.
2. Arrange longanisa in a serving plate with fried egg and fried rice. Enjoy!
Comments
comments
Powered by Facebook Comments