Filipino Style Recipe: Stir fry beef and vegetables is another simple yet delicious beef dish. The beef strips marinated then cooked and simmered together with vegetables until tender.
Estimated time of preparation: 10 minutes(plus marinating time)
Estimated time of cooking: 10-15 minutes
Good for 3-4 persons
Ingredients: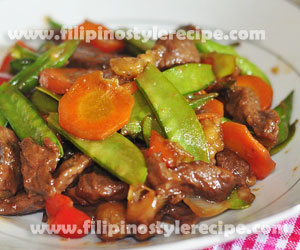 500 grams beef sirloin, sliced thinly into strips
100 grams snow peas, trimmed
100 grams green beans, trimmed and slice diagonally
1 carrot, sliced
1 red bell pepper, diced
3 cloves garlic, minced
1 white onion, diced
1 tablespoon oyster sauce
salt and pepper to taste
5 tablespoons cooking oil
Marinade:
1/4 cup soy sauce
1/4 cup oyster sauce
2 tablespoons brown sugar
1 teaspoon sesame oil
Procedures:
Part 1
1. In a bowl, combine beef and marinade then stir together.
2. Set aside for 30 minutes then drain and discard marinade.
Part 2
1. In a sauce pan, heat cooking oil and saute garlic and onion.
2. Add vegetables, oyster sauce, salt and pepper then stir cook for 4 minutes.
3. Transfer into bowl and set aside.
Part 3
1. In a same pan, heat oil then stir fry beef for 3 minutes.
2. Add cooked vegetables then toss and cook for another minute.
3. Transfer to serving plate then serve immediately with steamed rice.
Comments
comments
Powered by Facebook Comments