Filipino Style Recipe: Tinolang halaan or clams is another simple seafood dish that usually served by Filipinos. Usually to eat the clams using your hands and scoop the meat out of the shell using your mouth. This simple Filipino recipe is usually served during rainy season specially to lactating mothers.
Estimated time of preparation and cooking: 20 minutes
Good for 3-4 persons
Ingredients: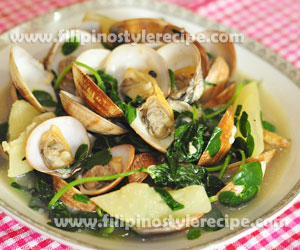 1 kilo fresh clams(halaan)
1 bundle malunggay leaves
1 small green papaya, sliced diagonally
1 bundle sweet potato tops(talbos ng kamote)
3 cloves garlic, crushed
1 thumb-sized ginger, thinly sliced
1 onion, sliced
3 cups water or soup from rice cooking(sabaw-sinaing)
fish sauce or salt and ground pepper to taste
3 tablespoons cooking oil
Procedures:
Part 1
1. Wash the clams thoroughly and drain. Place the clams in a container with water and salt. Cover and set aside for several hours or overnight. This will allow the clams to expel sand.
Part 2
1. In a casserole, heat oil then saute ginger, garlic and onion until translucent.
2. Add clams and fish sauce then cover and simmer until shells open.
3. Pour in water then cover and simmer for another 3 minutes.
4. Add green papaya, simmer for about 5 minutes or until papaya is tender but not overcooked.
5. Adjust seasoning with fish sauce and ground pepper.
6. Add malunggay leaves and sweet potato tops then simmer for a few seconds.
7. Remove from heat then transfer to serving bowl. Serve hot.
Comments
comments
Powered by Facebook Comments