Filipino Style Recipe: Stir Fry asparagus with ham and mushrooms is another simple yet delicious dish. This is consists of asparagus, ham and mushrooms stir fried and cooked in beef stock together with delicious spices.
Estimated time of preparation: 15 minutes
Estimated time of cooking: 20-25 minutes
Good for 3-4 persons
Ingredients: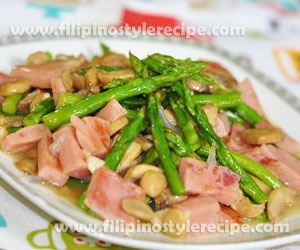 1 bunch asparagus, cut into 2 inch
8 ounces button mushrooms, sliced
2 ounces sliced ham
1/2 tablespoon cornstarch (dissolved in 1/4 cup water)
1/2 teaspoon brown sugar
1 cup beef stock
3 cloves garlic, minced
1 onion, chopped
salt and pepper to taste
2 tablespoons olive oil
1 teaspoon sesame oil (optional)
Procedures:
1. In a pan, heat oil then saute garlic and onion.
2. Add ham and mushrooms then stir fry until light brown.
3. Add asparagus and beef stock then season with sugar, salt and pepper.
4. Add dissolved cornstarch and sesame oil.
5. Continue cooking until slightly thicken. Serve immediately.
Comments
comments
Powered by Facebook Comments