Filipino Style Recipe: Sinigang na danggit sa kamias is another simple and easy Filipino dish. The procedure is similar to other sinigang, but we used kamias as alternative to tamarind.
Ingredients: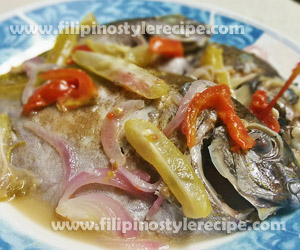 1/2 kilo rabbitfish(Danggit), cleaned
12 pieces fresn kamias (bilimbi)
4 cups water or rice washing
4 cloves garlic, minced
1 onion, sliced
1 thumb-sized ginger, sliced thinly
2 tomatoes, halves
a bunch mustard greens (optional)
3 tablespoons olive oil
salt or fish sauce to taste
1 teaspoon ground pepper
Procedures:
1. In a pot, heat olive oil and saute garlic, onion, ginger, tomatoes and kamias.
2. Pour water and bring to boil. Add fish then cover and simmer for 10 minutes. Add more water if needed.
3. Season with ground pepper, salt or fish sauce according to taste.
4. Add green chili and mustard greens and simmer for another 3 minutes.
5. Transfer to serving bowl and serve hot.
Comments
comments
Powered by Facebook Comments